Real-Time Bidding
Real-Time Bidding, or RTB, is a way to buy and sell online advertising, and at Datacratic I worked on a product that marketers could use to optimize their RTB campaigns.
I was recently invited to give a talk about auction theory and online advertising at Concordia University for a course entitled Social and Information Networks, which uses a really interesting textbook called Networks, Crowds, and Markets.
A recent article on AdExchanger asks "In the supposedly super-efficient world of RTB, why would publishers continue to waterfall their demand sources?". The article goes on to say that the publisher's justification is "Because it works" but that "Any economist could tell you that this is a bad idea". I'm not an economist but I can still pull together enough auction theory to show that this practice isn't necessarily a bad one today.
Last week, Bloomberg came out with an article on RTB arbitrage, which included a couple of sentences that made it sound a lot like it was possible to front-run an RTB auction: "Some buy from an exchange and sell it right back to that very same exchange" and "Some agencies are poorly connected to exchanges and can't respond to a first auction in time, allowing middlemen to buy and flip within the same market". This seemed surprising to me at first, given that all auction participants (as far as I know) get the same opportunity to bid on an impression, so how could you make money buying and selling the same impression on the same exchange? Upon further thought, however, here's a theory about how it might work.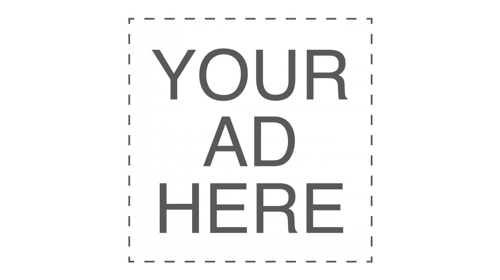 If you've ever been browsing the web and been annoyed by those One Weird Trick ads, or by ads for that product you looked at online last month and then bought offline, you've probably given a thought to blocking ads altogether. The response to this idea, from people who run websites for a living, ranges from "it's unethical" to "it's stealing!". According to them, the reason you get to use a website without paying for it yourself is that in exchange you see ads and website owners gets paid by the advertisers. That's a polite summary of the great Ad-Blocking Debate, which has been going on since the early days of the commercial web. I'm not going to take sides here; rather I'll propose a compromise enabled by a recent development in online advertising technology. I'm going to describe a "weird trick," if you will: how to use the same system as those ads that follow you around to block ads, all the while ensuring that the websites you frequent have nothing to complain about.
In Part 1 of this series, I said that in real-time bidding, we should "bid truthfully", i.e. that you should bid whatever it is worth to you to win. To compute this truthful value, given a target cost per action (CPA) for a campaign, I said you could just multiply that target by the computed probability of seeing an action after the impression, and that would give you your bid value.
I added that by calculating an expected cost of winning an auction, you could compute the expected surplus for that auction and that to pace your spending efficiently, you would only bid truthfully when this expected surplus was above some threshold value, and not bid otherwise. This threshold value would be the output of a closed-loop pace control system (described in Part 0) whose job it is to keep the spend rate close to some target.
In Part 3 of this series, I then showed that in fact, the second claim of Part 1 was not optimal and that instead of setting an expected surplus threshold, you should set an expected return-on-investment (ROI) threshold.
In this post, Part 4 of the series, I show that the meaning of "bidding truthfully" can be slipperier than expected, and that you can get the same results as an ROI-based pacing strategy with a perfect expected-cost model, without even needing to use an expected-cost model.
In Part 1 of this Peeking Into the Black Box series, I described how you could compute the expected economic surplus of truthfully bidding on an impression in an RTB context. I then explained that you could use this computation to decide which bidding opportunities were "better" than others and therefore decide when to bid and and when not to bid, based on the output of a closed-loop pace control system such as the one described in Part 0.
In this post, I show that in order to maximize the economic surplus over a whole campaign, the quantity you should use on an auction-by-auction basis to decide when to bid is actually the expected return on investment (ROI) rather than the expected surplus. At Datacratic, we actually switched to an ROI-based strategy in late 2012.
I was invited to speak on a panel at a Rubicon Project product launch, and this is the video of the event.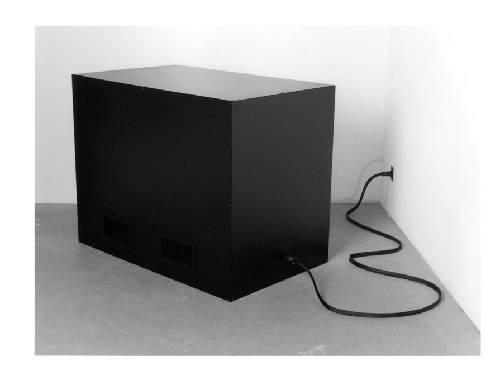 In Part 1 of this series, I claimed that Datacratic's RTB algorithm is able to take advantage of other bidders' sub-optimal behaviour and navigate around publisher price floor in order to achieve advertiser goals. I then described the algorithm, which applies what can be called a "bid truthfully, pace economically" approach. In this second part, I show how this algorithm can in fact live up to these claims.
When you bid truthfully and pace economically, you are always trying to allocate your budget to the auctions which look like the best deals, whether that means that the user is very likely to click, or that the price is low because fewer bidders are in the running or there is no publisher price floor.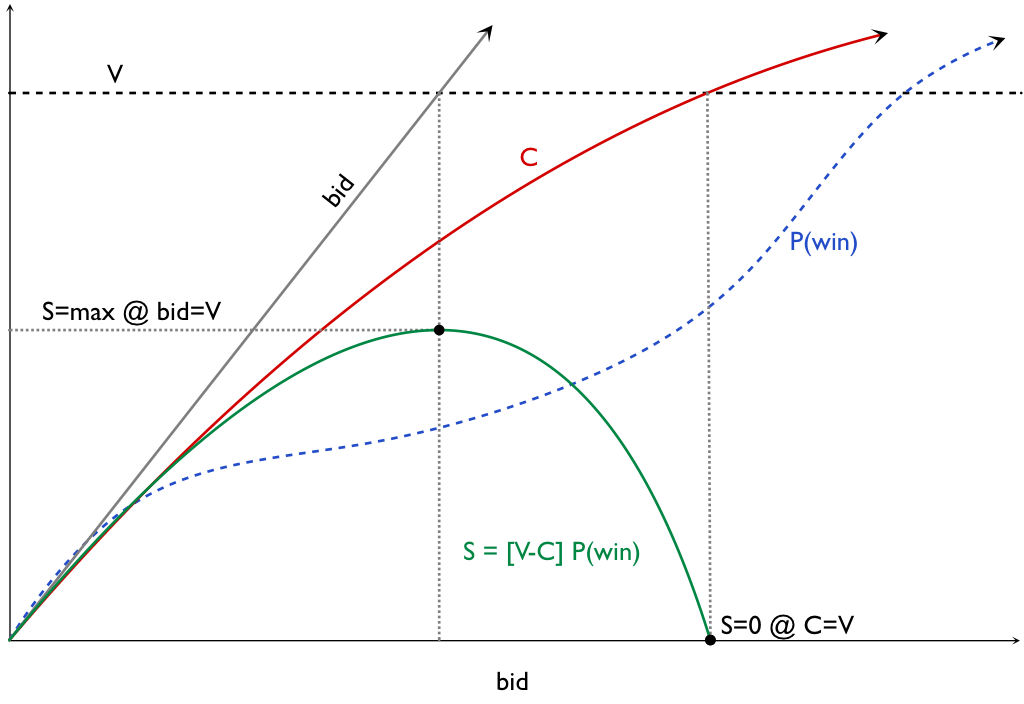 This article is about the statistical and economic theory that underlies Datacratic's real-time bidding strategies, as a follow-up to my previous article on how we apply control theory to pace our spending, which I'm grandfathering in as "Part 0" of this series called Peeking Into the Black Box.
At Datacratic, we develop real-time bidding algorithms. In order to accomplish advertiser goals, our algorithms automatically take advantage of other bidders' sub-optimal behaviour, as well as navigate around publisher price floors. These are bold claims, and we want our partners to understand how our technology works and be comfortable with it.No "trust the Black Box" value proposition for us. In Part 1 of this series I'll explain the basics of our algorithm, first how we determine how much to bid, and then how we determine when to bid. In Part 2 I'll show how this approach responds in some real-world situations.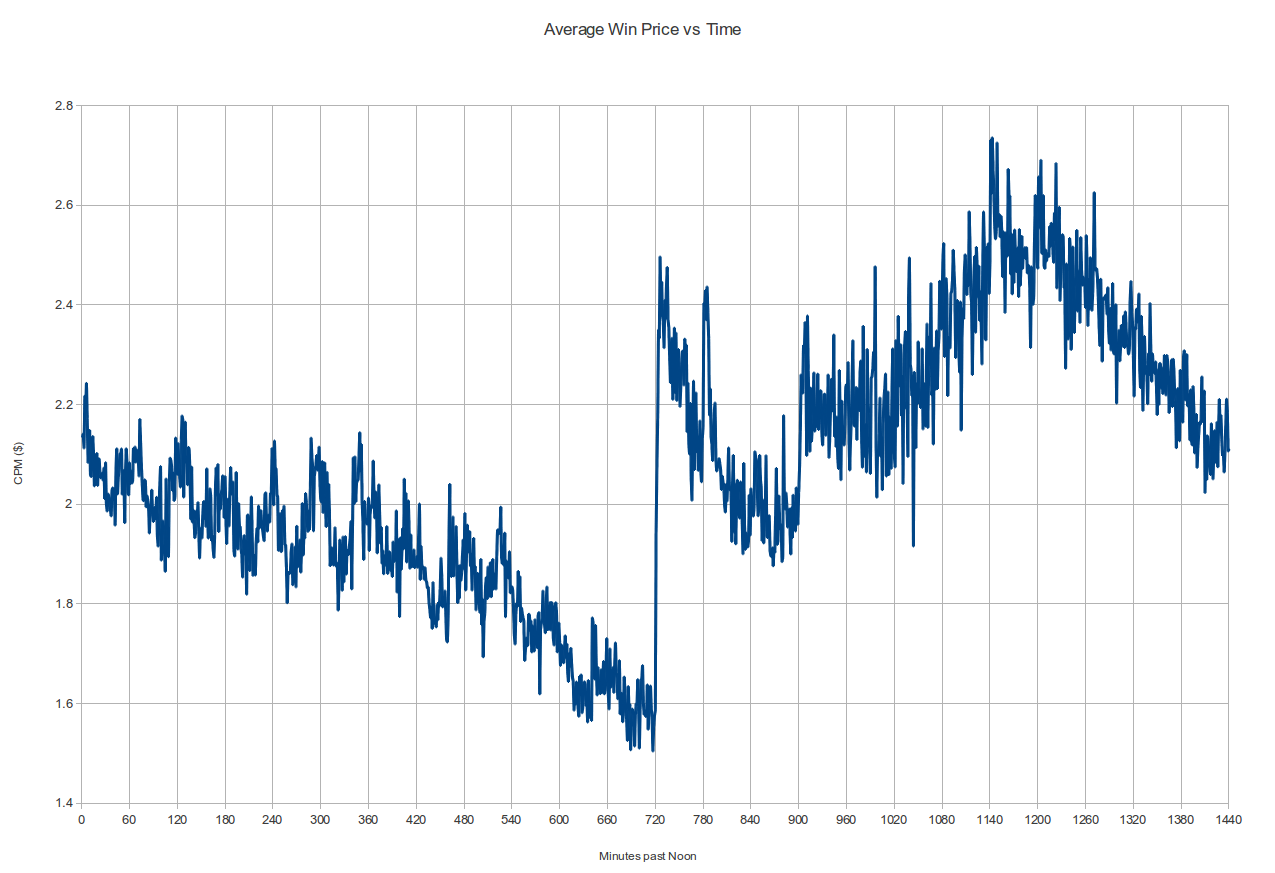 I've written some follow-up posts to this one, as a series called Peeking into the Black Box, so I'm grandfathering this post in as "Part 0" of the series.
I read an interesting post on the AppNexus tech blog about their campaign monitoring tools and the screenshots there almost exclusively contained various pacing measurements. Some of the graphs there looked a lot like the ones I had sketched up while trying to solve the pacing problem for our real-time bidding (RTB) client. Here are the basics of the problem: if someone gives you a fixed amount of money to run a display advertising campaign over a specific time period, it's generally advisable to spend exactly that amount of money, spread out reasonably evenly over that time-period. Over-spending could mean you're on the hook for the difference, and under-spending doesn't look great if you want repeat business. And if you don't spend it evenly, you'll get some pissed-off customers, like this guy who had his $50 budget blown in minutes. Sounds obvious, right? Apparently it's harder than it looks!
There doesn't appear to be a good Wikipedia entry for RTB for me to link at the moment, when I want to blog about it so I'll draft my own explanation here. (Edit: there is an entry now, but I like my characterization better!) Keep in mind while reading this that I'm looking at RTB as a software engineer with an interest in economics, rather than as an ad industry veteran!