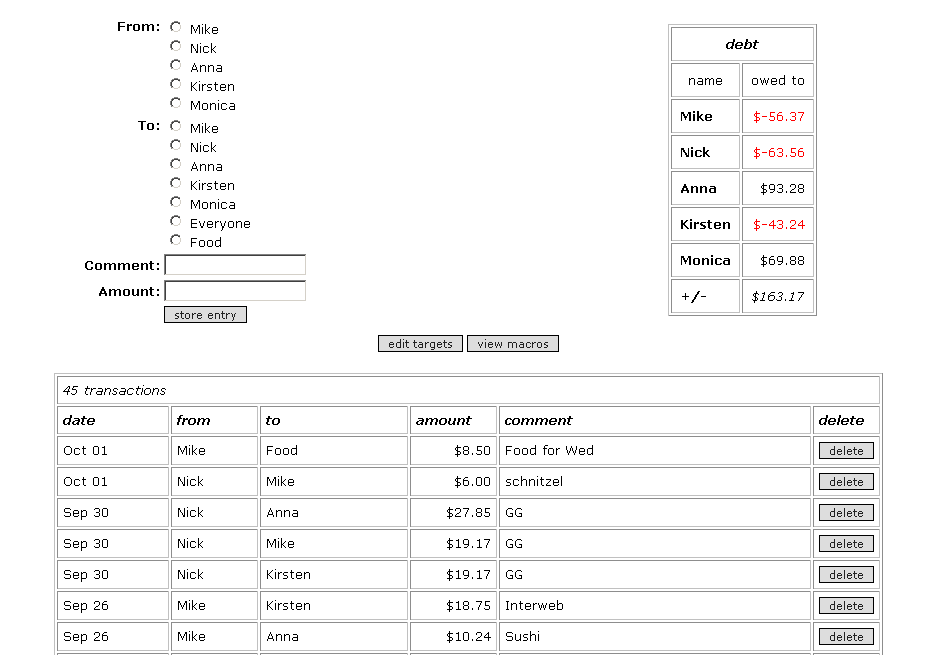 The Problem
You're part of a small-to-medium group of people who trust each other and have some reason to spend time and money together (e.g. you have a few housemates or you work in a friendly office environment). It's a huge hassle to constantly be requesting separate bills or lending each other money and losing track of who owes who how much and for what. You waste time quibbling over small amounts and people in your group don't like lending each other money or picking up the tab for lunch.
The Solution
Using this simple web application, a group of people who trust each other can keep a running tab of how much they owe each other. This is handy for figuring out such things as who should pay for groceries next time (e.g. whoever owes the most) and generally makes people more easy-going about spotting each other money or picking up lunch, as they know they can keep track of it. With PHPTab, any member of your group can be as lenient or penny-counting as they want, without ever having to actually be constantly be trading small sums of money. It's just a matter of "putting it on their tab".
In the fall of 2003, my classmates and I were given an assignment in our Bridge Design course, to model the Salginatobel Bridge as a truss and analyse it using the Stiffness Method in Excel (ignoring buckling effects). As an additional challenge, we were to be awarded bonus marks if we could improve upon the efficiency of this, our professor's favourite bridge, by moving the members around.